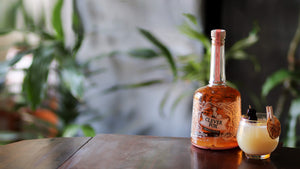 with Clever Fox Reposado Rum
You've heard of a whiskey sour, but have you had a rum sour?
Cinnamon Rum Sour, made with our very own Clever Fox Reposado rum. This exquisite cocktail is a delicious blend of fresh lemon, homemade cinnamon syrup, a touch of egg white, and a dash of Angostura bitters. Don't have cinnamon syrup? No problem. Feel free to substitute simple syrup or agave nectar and adjust to taste.

Cheers to quality, craft, and the magic of sharing a drink with good friends.
INGREDIENTS
3/4 ounce lemon juice
3/4 ounce cinnamon syrup
(1:1, sugar:water, three crushed cinnamon sticks)
1 small egg white
1 spray Angostura bitters
steps
Add the egg and lemon juice to a mixing tin, and dry shake.
Add rum and simple syrup to the other side of the shaking tin.
Add ice and shake.
Double strain over ice into a rocks glass.
Allow the egg white to separate and spray Angostura on top of the foam.
Express a lemon peel over the glass and garnish with the peel and a brandied cherry.

Feel free to substitute the cinnamon syrup for simple syrup or other infused syrups to create your own specialty sour!