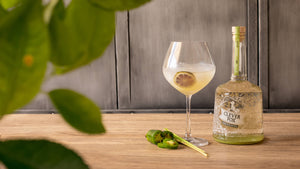 WITH CLEVER FOX SILVER RUM
Where Spice Meets Sophistication
Introducing the "Velveteen Fox," the newest star in our drink collection that stole hearts at the renowned Outstanding in the Field event held at the Temecula Olive Oil Company.

We infused our Clever Fox Silver with the zesty freshness of lemongrass, adding a spicy kick with a homemade jalapeno simple syrup and a squeeze of tangy lime juice. Prepare to be whisked away on a velvety-smooth, flavor-packed journey like no other.
It's the kind of cocktail that's so good, you'll reach for it over and over again. Grab a glass, raise a toast, and get ready for an unforgettable taste adventure.
INGREDIENTS
SINGLE COCKTAIL:
2 oz lemongrass-infused Clever Fox Silver Rum
(steps below)
3/4 oz jalapeño syrup
(steps below)
3/4 oz fresh squeezed lime juice

BATCHED COCKTAIL:
(makes 12, 3.5oz cocktails - 42 total oz)

steps
SINGLE COCKTAIL
Add all ingredients above in a shaker tin with ice.
Shake and finely strain into a chilled coupe glass.
Optional - garnish with fresh or dried lime wheel.
BATCHED COCKTAIL
Add all ingredients together into a carafe or pitcher.
Stir well and pour over ice.
Optional - garnish with fresh or dried lime wheel.
EASY FRESH JALAPEÑO SYRUP
(makes 1.5 cups / 12 oz of syrup)
To make the jalapeño simple syrup, add one cup of sugar and one cup of water to a sauce pan over medium heat, with one fresh chopped jalapeño.
NOTE: We usually pick a jalapeno that has no blister marks on the outside (means it's less spicy) and then use the whole pepper, seeds and all. We find that this method produces a syrup with a lot of fresh jalapeño flavor and a touch of heat, but not overly spicy. Feel free to experiment to find the heat level you enjoy!
Stir until dissolved and hot, but not boiling, turn off heat.
Let cool naturally or at least let stand for 10-20 minutes before cooling.
Pour into a bottle and store in the fridge.
Should last 1-2 weeks in fridge
EASY LEMONGRASS INFUSED RUM
Visit your local asian-food market and pick up some fresh lemongrass.
Chop a few stalks of lemongrass into 2" pieces, split down the middle.
Place lemongrass into your bottle of Clever Fox silver, or in a jar with a smaller amount. We usually put about 1 full stalk per 2 cups of rum, but it doesn't need to be an exact science. Have fun. :)
Let sit in the rum for about 15-30 minutes. Taste it along the way and leave longer if you want more lemongrass flavor.