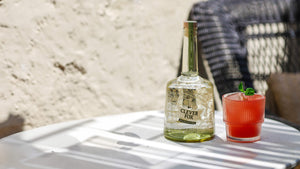 WITH CLEVER FOX SILVER RUM
A Splash of Basil Bliss
the cocktail that stole the spotlight at the San Diego International Film Festival this year. It's a tantalizing mix of Clever Fox silver rum, fresh watermelon juice, a squeeze of lemon, and a dash of basil syrup. Oh, and don't forget the fresh basil leaves on top!
Let me tell you, this drink is seriously refreshing. Picture yourself lounging by the pool, sipping on this beauty and feeling all the stress just melt away. The flavors are on point - the rum adds a smooth kick, the watermelon juice bursts with freshness, and the lemon gives it a zing. And that hint of sweetness from the basil syrup? It's pure perfection.
Whether you're hosting a get-together or just want to unwind after a long day, Marvelous Mrs Basil's got your back. It's easy to make and even easier to enjoy.
INGREDIENTS
SINGLE COCKTAIL:
2 oz fresh watermelon juice
3/4 oz fresh squeezed lemon juice
1/2 oz basil simple syrup
(recipe below)

BATCHED COCKTAIL:
(makes 12, 5oz cocktails - 60 total oz)

18 oz Clever Fox Silver Rum
24 oz fresh squeezed watermelon juice
6 oz water
6 oz fresh lemon juice
6 oz basil syrup
(recipe below)
steps
SINGLE COCKTAIL
Add all ingredients above in a shaker tin with ice.
Shake and finely strain into a rocks glass with ice.
Garnish with fresh basil leaf.
BATCHED COCKTAIL
Add all ingredients together into a carafe or pitcher.
Stir well and pour over ice.
Garnish with fresh basil.
EASY FRESH BASIL SYRUP
(makes 1.5 cups / 12 oz of syrup)
To make the basil simple syrup, add one cup of sugar and one cup of water to a sauce pan over medium heat.
Stir until dissolved and hot, but not boiling, turn off heat.
Add 12 roughly chopped Basil leaves and stir
Let cool naturally or at least let stand for 10-20 minutes before cooling.
Pour into a bottle and store in the fridge.
Should last 1-2 weeks in fridge