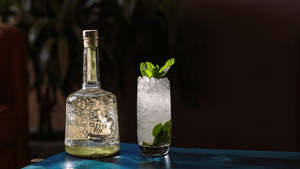 with Clever Fox Silver Rum
The perfect mojito
Clever Fox was made for the classics, and this mojito does not disappoint.
steps
1. Squeeze in juice from both lime halves into the simple syrup, and lightly muddle with mint. Add the rum and ice and stir to chill.
2. Pour everything into a glass, top with soda water and garnish with more fresh mint
Variations we've tried and loved:
COCONUT
Add 1.5 oz of fresh coconut water and cut back on a little bit of the soda water.  
For the advanced mixologists, you can try substituting a coconut fat washed Clever Fox Silver rum. Takes a bit more prep work for the infusion, but hits those coconut notes a bit more.