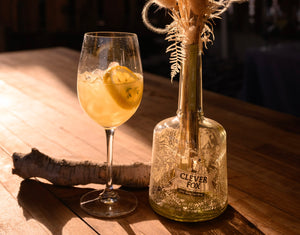 with Clever Fox Silver Rum
our most requested drink
A big hit at the famous Outstanding in the Field luxury dining event, our newly curated "Fox in the Field" drink is perfect for any season and any occassion. Whether you're hosting a party or enjoying a relaxing night in, this refreshing and light drink is one you won't forget.
INGREDIENTS
1.5 - 2 oz Clever Fox Silver Rum
3/4 oz fresh lemon juice
1/2 oz of water
3/4 oz honey thyme syrup:
1/4 cup of sugar
1/3 cup of San Diego Honey Co. Raw Wildflower Honey
1 cup of boiling water infused with thyme
the peels from 2 lemons
1 bunch of thyme
steps
1. To make the honey thyme syrup, take the peeled lemons and mix it with granulated sugar just enough for it to get glossy. Set aside.
2. Take 1 cup of water and heat it up to a rolling boil. Add 1 bunch of thyme and let it steep for about 20 minutes.
3. Pour thyme water into the sugar and lemon peel mix and add San Diego Honey. Let sit for 20 minutes.
4. Strain the mixture into a glass container (syrup will keep fresh for 2 weeks if kept refrigerated).
5. Add Clever Fox, fresh lemon juice, honey thyme syrup, and water into a shaker with ice and shake until well chilled.
6. Strain into a glass over ice.
7. Garnish with slice of lemon and sprig of thyme
8. Enjoy!
Tip: Freeze drink and it will last several weeks