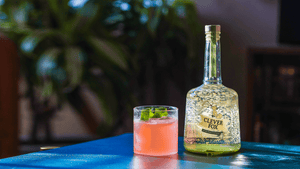 with Clever Fox Silver Rum
A dream in a glass
Balanced, all natural and bright, the Hemingway Daiquiri is a crowd-pleaser all year long.
 Lime and grapefruit come together in this cocktail to highlight the stone-fruit notes in Clever Fox, while the maraschino liquor adds a touch of sweetness and highlights the flavors of chamomile and cactus in Clever Fox.
INGREDIENTS
3/4 oz Lime juice - freshly squeezed
3/4 oz Grapefruit juice - freshly squeezed
1/4 oz Maraschino liqueur
Garnish: lime zest spiral
steps
1. Add the rum, maraschino liqueur, lime juice and grapefruit juice into a shaker with ice and shake until well-chilled.
2. Strain over a large ice cube
3. Garnish with a lime zest spiral
Variations we've tried and loved:
ALOE:
Try subbing in in Chareau Aloe liqueur for the Maraschino. We really dig this one, because it highlights the vegetal aloe notes in the rum.
COCONUT:
2 oz Clever Fox Silver Rum
3/4 oz Fresh lime juice
1.5-2 oz Fresh grapefruit juice
1.5 oz Coconut water
Optional: Try it with and without the Maraschino Liqueur, and a pinch of salt doesnt hurt on this one.
For the advanced mixologists, you can try omitting the coconut water and substitute a coconut fat washed Clever Fox rum. A bit advanced, but delicious.