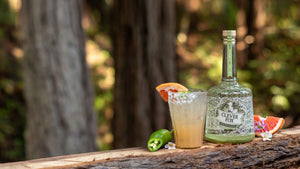 with Clever Fox Silver Rum
Just the perfect amount of spice
A perfect twist on the traditional Paloma, the fresh jalapeño syrup adds a peppery flavor that really plays up the vegetal notes of Clever Fox Rum. This drink is perfect for your next party and will blow your guests away!
INGREDIENTS
1 oz Grapefruit Juice - freshly squeezed
3/4 oz Jalapeño Syrup (recipe down below):
1 cup sugar
1 large or 2 small fresh chopped jalapeños
1/2 oz Lime Juice - freshly squeezed
Garnish: slice of grapefruit and slice of jalapeño
steps
1. To make the jalapeño simple syrup, add 1 up of sugar and one cup of water to a sauce pan over medium heat
2. Stir until dissolved and hot, but not boiling
3. Add about 1 large or 2 small fresh chopped jalapeños (with seeds) to the mixture and turn off the heat.
4. Let sit for 10-20 minutes, until it tastes strongly of jalapeño and makes your mouth happy.
5. Once the syrup is made, pour the rum, grapefruit juice and jalapeño simple syrup into a shaker with ice and shake until well-chilled.
6. Dip rim of your glass in lime juice or rub with fresh lime, and dip into salt (or Tajín if preferred)
7. Strain into glass over ice
8. Optional: top with grapefruit soda, a slice of jalapeño, and a slice of grapefruit
9. Enjoy!