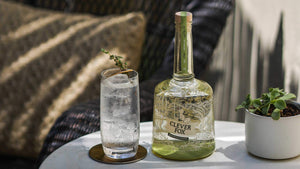 with Clever Fox Silver Rum
play a little gin rummy
A rum and tonic is a quick and easy drink that is a fun twist on your classic G&T. The natural, floral notes of Clever Fox substitute beautifully for gin in this timeless cocktail.
steps
1. Fill a tall collins glass with ice
2. Add the Clever Fox rum
3. Top with indian tonic of your choice (we suggest Fever Tree)
4. Add a squeeze of lemon to taste
5. Garnish with dehydrated lemon wheel.
6. Enjoy!